Encaustic Art has been around since 1986 and in its current brand design and colours since 1991. Changes are afoot & very soon you will find a refreshed logo and packaging taking the place of our current encaustic art product line. These products are much loved by the hobby art and crafter's community.
For fine art, people usually split into two areas – those who work with this range of encaustic art (wax formulation paints) and those who embrace the wax and resin mixtures of encaustic paint that bring different qualities. The encaustic art blocks are safe for all in pretty much any situation and can work onto flexible surfaces so long as applications are fairly thin coatings, as is normal when heated tools are the applicator. Resin containing formulations require a definite ventilation of the space but are great for layering, application with brushes and have excellent adhesion and a stronger surface than the non-resin waxes (generally speaking). However, use of a rigid substrate, like the "encausticbord" products is vital, otherwise the thicker applications can crack.
Getting back to the encaustic art refreshment, the old logo and packaging is being replaced with a modern and pleasing new range. New products are promised in the coming months and years too.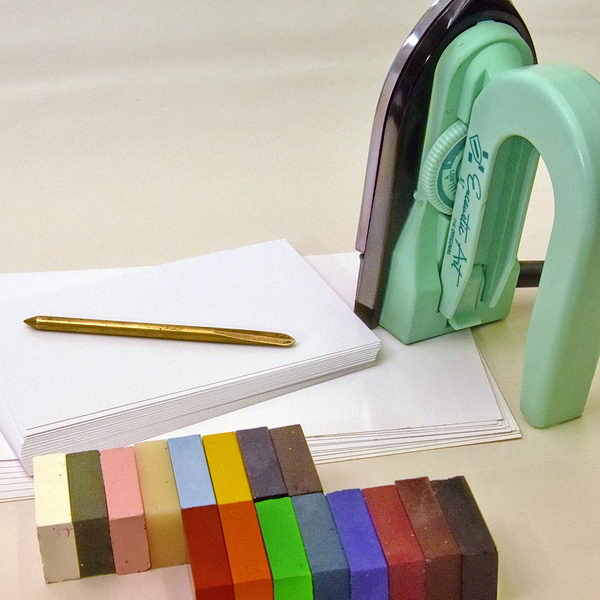 The basis of Encaustic Art (THE ORIGINAL) is use of low heat tools in the melting and working of wax and pigment block colours. All the colours are intermixable and can be worked onto many surfaces effectively. It is best to begin exploration with the non-absorbent card stock which comes in the start sets and can be bought up to an A1 size (which is quite big). Starting at A6 postcard type of size is ideal though.
Absorbent papers can also be used, as well as boards, fabric, and many other substrate materials. There are several sections about these things on the archive area of this site. The Techniques,  &  Artwork section are good places to browse.