Celebration Flow
After finishing almost 5 months of work on the Flowing Wax online course for EncausticHouse.com I decided celebrate the launch. The course is live and some others have already begun to explore this aspect of encaustic art working – flowing wax.
This image here shows the initial flow result and then the stages of development. All this detailing and addition to the original flow was done using the Styus Pro with the drawing tip attached.
I often make up stories about the images I've created – maybe you will find your own in this one?!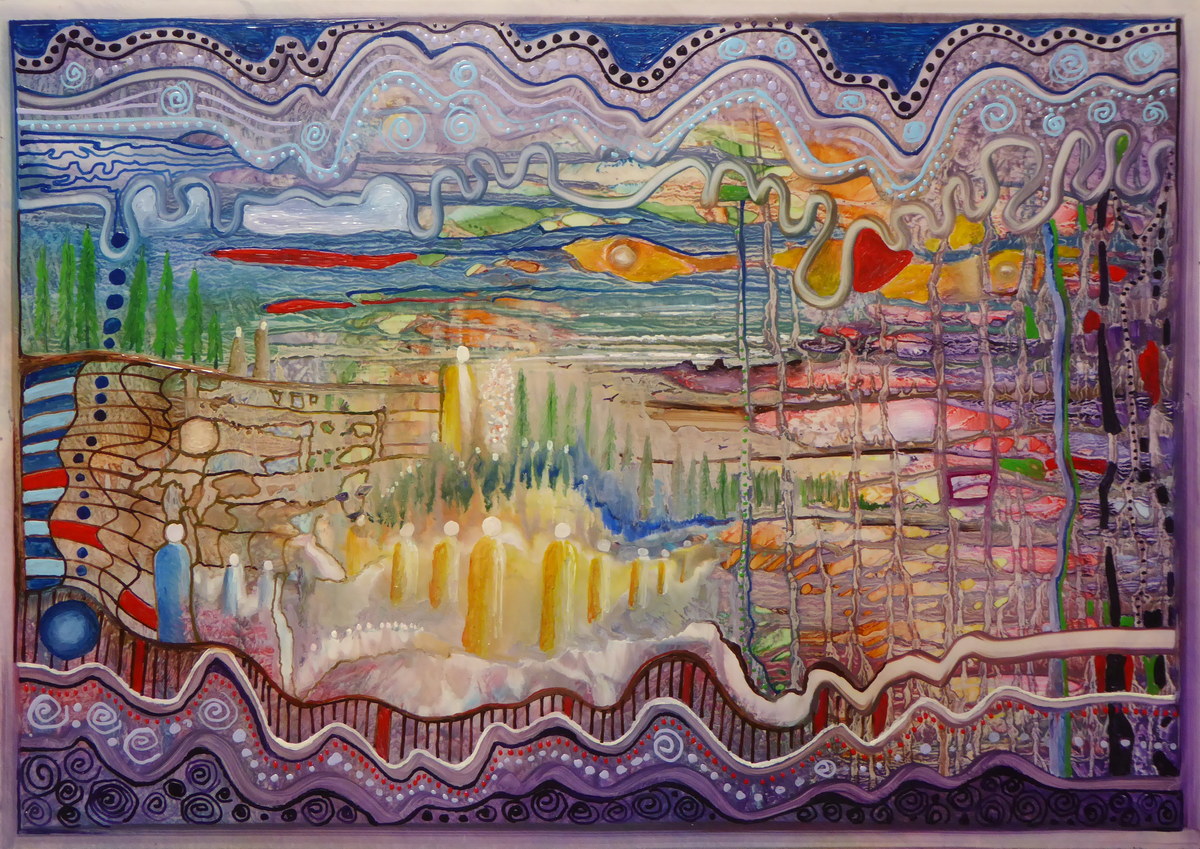 These 9 images show the detailing and enhancement of the initial wax flow which is an A3 card thta I let flow across several hours. Sometimes I forgot all about it and got caught up in other things. Then I'd have a look and decide to make more flows or turn it into a different result somehow. In the end, I used a twisted tissue point to create the wiggly lines at top and bottom of the image area. Then the puzzle became about what to embellish, what to develop and define?
It's a fascinating journey if you are interested in imaginative work at all. But you could also just enjoy the flows for what they are – even cut out or crop areas into smaller images too. So many possibilities in Flowing Wax.
The FLOWING WAX online course
When wax is heated it changes from a solid into a liquid. And liquids can flow.
This course is about Flowing Wax. I'm Michael Bossom and I've played with lots and lots of wax flows.
It's a creative opportunity. Using a hotplate with card and wax colours to create wonderful visual results which are rich and change and vary every time. Then, if you wish, you can develop or evolve those flows using other wax heating tools, like the stylus or the iron, scribing tools, whatever you like.
It's interesting and it's exciting!
Can anyone do this? … yeah!
And what do you need?
Well, we're going to be using hotplates on this course.
The Compact Hotplate and the Electric Hotplate.
How do you begin and work safely?
Do all the waxes behave the same?
How can I change the flows?
This course will explain all of these things for you. You'll find yourself becoming totally connected to the changing colours and moving forms. New creations will unfold before your very eyes.
What temperature will work?
H
When do you stop? Can wax flows be re-flowed and re-melted?
There are so many questions and I've tried to show and answer all the things that you'll need, to succeed.
We'll start with smaller A5 cards to get the idea and then move up onto larger hotplates to do bigger work and to grow. This course will open doors into totally new ideas for you.
Why not explore flowing wax next?
Take this course and let me help you succeed.
Be led by the Videos, and there are lots of them and the Study Focus details, where all the key points are gone into the photographs, with writing to remind you of what's important.
Be inspired by the Galleries. There are lots and lots of examples.
But in the end, discover your own unique expressions of creativity within these wax flows.
Dive into this flowing wax, it's great fun so join me in this course of Flowing Wax.
.