Autumn update & Special Offers galore!
Welcome to this newsletter which we hope will bring you some updates and also some opportunity to get a few bargains along the way.
Firstly, thanks for taking a moment to see what news we have for you about encaustic art. For a start, there is an evolution taking place in the identity of the brand. We have globally  marketed the encaustic art brand for the last 25 years using the familiar blue green packaging, colour block & iron icon and the Celtic font text. This is now changing.
The new look logo is more contemporary, and perhaps better suited to the place that this excellent brand and associated range of techniques occupy in the modern encaustic vista. Using heated tools to melt wax block colours is a very different approach to that of using cold brushes to paint on wax taken from heated containers of molten colour. There are many diverse approaches to the encaustic arts these days. The log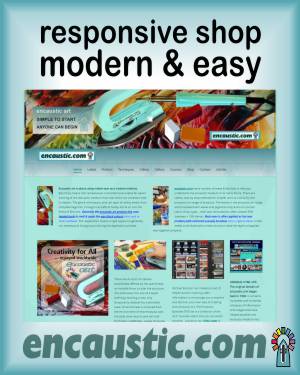 The original encaustic shop was created before tablets and mobiles were used for shopping. But now things have changed and so has the shop.
Please can you now use this fully responsive & modern shop for buying encaustic art products from us – thanks.
Coupons allow discount to customers by entering then in the cart before checkout stage (go to view cart – enter the coupon and update the cart – see the discount amount shown in the totals). You can test that out yourself if you are interested in getting 25% OFF any of our regular Rubber Stamps.
Just choose stamps from the shop and put them into your cart.
Next, view the cart and enter the coupon code:  stamp25   … then click Apply Coupon.
Look at the totals to see the 25% discounted.  You can also enter the coupon by clicking the link at the top of the Checkout page to reveal the coupon entry space – after entry remember to click "Apply Coupon". Finally, go through checkout by entering your details (choose to make an account to save doing this next time) and then proceed to make the payment. SagePay accept Visa, Mastercard and Maestro, PayPal accept those cards too and also American Express & Discover cards.
Die cut encaustic art – video & gallery
New Video introducing Die Cutting with encaustic art. This 12 minute video shows the very BASICS of using encaustic art in a Die Cutting machine. More video is coming on this – very popular with the hobby crafters and nice for multimedia use in  hobby art too. See the card examples more fully in the New Die Cut Gallery Album
Die-cutting is a massive hobby within the crafting movement worldwide. These examples were done for our TV shows (on Hochanda) to see what interest there is in this field creativity. The encaustic art waxed cards work beautifully with the die. Many dies can cut intricate shapes quickly and offer interesting and easily themed focus to card making and arty pieces.

What a fantastic array of colours we saw this warm October as Autumn falls into place. Those wonderful colours inspired a snapshot photo of a tree in the garden – an anniversary tree planted 24 years ago. This Maple sang a song of such beauty that it begged to be coloured-over and recreated in vivid wax colour. It is not finished yet, but certainly well on its way.
The photo is printed onto paper and glued onto a rigid board. The low-heat stylus fitted with a drawing tip was used to apply the wax colours – these were mixed from one basic palette of 16 blocks that came within the encaustic artset.. Every touch was a journey in colour mixing accuracy. It is both fun and easy to work in this manner. The more care you give then the more accurate the definition. However, this piece is not finished at the lower part and may look very different when completed. There are no rules!
Over the next 2 years there are a lot of changes planned for encaustic art.
Next Spring will see the first of those coming into reality.
Thanks for taking time to read this far. Wishing you a creative time.
Be well and create with beauty.
Michael