Two hours of encaustic art on Hochanda, covering some Christmas ideas as well as beginner landscapes, a look at stamps, snow and compact hotplate beginnings too.
Merry Christmas to you …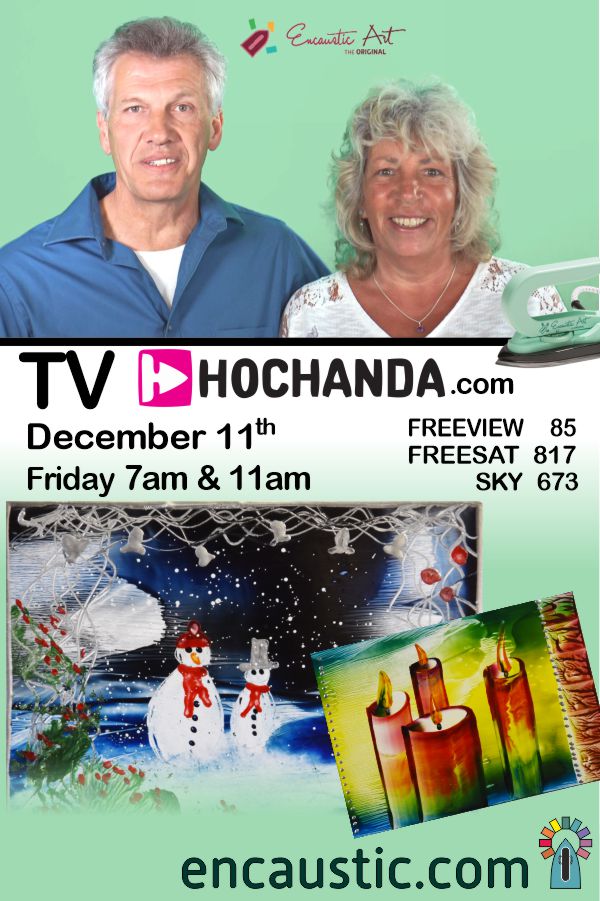 [product id="39496″]
[product id="40770″]
In this program Michael begins with quick candle creation. Then onto basic iron abstracts adn landscape format. Next comes a snowman!
Shona carefully explains landscape, then onto stamping a nativity scene and developing it with the iron. After this she shows how to use the comp0act hotplate for developing stamp images into scenes. A bit more hotplate swipes and dragthroughs, smoe brushed snow too.
Shona begins this show's demonstrations with clear stamps of stags in winter time. Add some snow to finish the scene perfectly. Next some more landscape swipes and drag-throughs on the compact hotplate and how t5o seal using the wax sealer (acrylic protection for cards),
Michael works  those earlier candle approaches up with a new "candle-play" card. This was based on the idea from Ineke in the Netherlands who developed candles into destination places for her pathway characters ; candle-ways were born! Just a little time left to show the basics of how to use tools on the comp0act hotplate and that's another hour gone!