Another couple of hours on Hochanda – the Rewind programs are available until November 20th if you want to take a peek. You can skip along the timeline of the video if you just want to watch the demonstrations.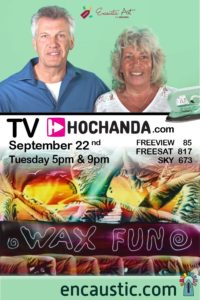 Janice presents Michael & Shona in their encaustic art demonstrations. Remember that you can skip along the timeline to see the bits that you find interesting and this link will remain active until November 20th or thereabouts.
Simple A6 landscape cards from Shona.
Compact Hotplate background light & nativity stamp from Michael.
Leonie presents Michael & Shona as they demonstrate for the second hour of their Encaustic Art work. "Simple to start" they say, and here's how.
Shona shows printing wax onto fabric and Stag stamps in the snow.
Michael shows white candles on black card, metallic wax stamping onto black card & compact hotplate tools and basics.