Encaustic Art Painting with Beeswax
...as a hobby art anyone can start this fascinating and absorbing journey into simple landscape. Perhaps 'mindscape' would be a better description.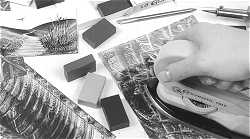 The good news is that it's simpler than ironing your shirt. Just because you may not think you are an artist doesn't mean you can not be creative, and "to bee" creative is what encaustic art is all about. The encaustic medium is a mixture of wax and pigment. This wax colour is melted and applied to a surface. The heated tool is similar to a small travel iron, except that it has a high quality thermostat to allow careful control of temperature. It also has a polished metal base rather than a Teflon coating. The surface is a sealed card, which remains clean underneath the wax, thus allowing re-melting and changing of the wax effects
The advent of electricity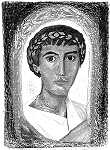 has made it easy to control the heat of tools, but in Ancient times, when encaustic was first used, the heat source was charcoal. The Greeks, Romans & Egyptians would melt the mixture of Beeswax and Damar Resin over this heat-source and blend the ingredients together, probably in a proportion of about 85% Beeswax to 15% Damar. Once the wax formula was molten the coloured pigments could be introduced. These would mainly have been earth pigments, the right coloured dirt! The wax colour was then painted onto a wooden support about 3mm thick using natural hair brushes. Some of the strokes would have to have been quick. Too much dallying would lead to the wax re-solidifying on the brush, making it impossible to apply as a paint. A good introduction to the fascinating world of mummy portraits is the book that records the wonderful exhibition of many of these Ancient artworks, held at the British Museum in 1997. Simply called "Ancient Faces", it is available from the British Museum Press ISBN 0-7141-0989-4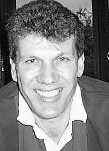 In 1986 Michael Bossom met a French Canadian named Jean Marie Giraud who was in the UK selling his unusual artwork at shows around the country. Michael and his wife Shona bought one of these images which was made from oil pastels and waxes using heat techniques including a travel iron. The finished pieces were varnished for protection. As Michael says "I was so inspired by this ' painting that was not a painting' that I stole Shona's iron and started messing about with the effects it produced when crayons were melted onto the backs of old Christmas cards." At Easter of 1987 Michael displayed some of his artwork at St.David's Cathedral, near his home in West Wales. People liked it. This success, for a man with no former painting ability, changed his life completely.
So how does it work?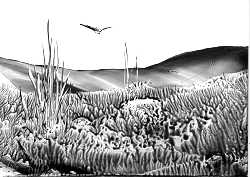 Anyone can get the basic four effects that iron and wax together provide. It is not a difficult task for everyone to assemble these effects into a simple image. The landscape shown on these pages is the image that Michael originally developed and is based on the Preseli Hills, close to where he lives in Wales. The fantastic 'foliage' effects in the foreground are part of the surreal style that you just can't help but be intrigued by.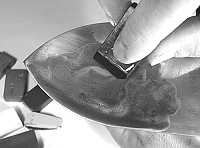 To get started you need an iron that will hold a low temperature and some waxes that are designed to be used molten rather than as crayon (see contact address for supplies).

The iron needs a low heat similar to the nylon setting on conventional travel irons. The more constant the temperature the more controllable the handling characteristics of the wax colour. Using straight beeswax with pigments or dyes added will not give very good results.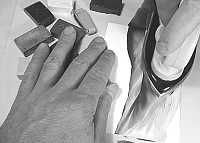 Once the iron is 'loaded' with some colour it is time to spread the wax onto the sealed card in a smoothing manner. The card should be placed on some disposable under-paper. A pad of computer paper is very handy for this job because when it gets dirty the offending piece can easily be torn off and removed. The rounded shape of this iron's top edge causes the horizon in the emerging landscape. In time, many different horizon shapes can be achieved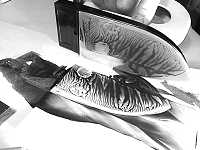 When, instead of smoothing with the iron, it is lifted off the card, a most amazing effect occurs. This 'foliage' patterning is caused by breaking the suction between the wax, card and iron. As air rushes into the space that lifting the iron creates, the wax is pushed into 'channels'. These appear as an organic form which can be used to imply all sorts of things within images. Trees, bushes, lichens, coral but to name a few.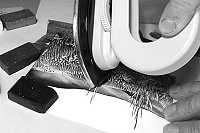 Once the main landscape and foliage have been created it is time to add a few details. The edge of the iron is very good for sliding through the wax to form slender 3D grasses. The tip of the iron is used to add a bird or two. Before you know it some spots of stronger colour are popping into the foreground to give the impression of flowers. It really is so quick and easy that this simple form of encaustic art now brings pleasure to many tens of thousands of people all over the world.
Of course, there are times when you may want to do more carefully controlled graphics. If you can already paint or draw, the 'stylus' tool is just the job. It is like a very low temperature soldering iron but never gets hotter than about 90 degrees Celsius at the tip. It has been specially produced to give a constant working temperature, ideal for the wax colours. Different tips are available and you can use small items like screws, etc, so long as they will fit into the hole and can be secured by the screw provided in the tool's heated stem.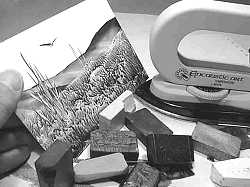 All in all, the use of beeswax for painting lasting images that span over 2000 years, or for creating almost instant artworks that everyone can enjoy, proves that this use of a wonderful natural product is here to stay. Somehow the wax colours are alive in their vibrancy, almost bringing a new dimension to colour. Bees see differently to us. Perhaps these colours can help us to see differently too.
If you are interested in this fascinating subject and want to know more, then visit the website of Arts Encaustic at Http://www.encaustic.com or write and ask for a free brochure to : Arts Encaustic, Glogue, Pembrokeshire SA36 0ED Wales, UK.
Tel: +44 (0)1239 831401 Fax: +44 (0)1239 831767