The original
Christ Pancrator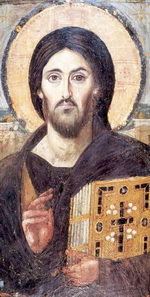 First A4 copy
onto card using
the stylus &
drawing tip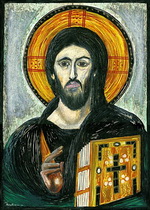 Inspirational
piece worked
onto MDF board
using molten wax
colours and cold
hair brushes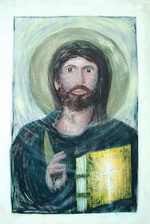 Christ Pancrator - St.Catherine's Monastery Mt Sinai, Egypt
A 6th century icon ( that was visited on an auspicious date).
Michael's Story for 12.12.2012
On 12.12.12 I visited a monastery in Sinai Desert - by Moses mountain (Mt Sinai, Egypt) I was on an early winter vcation to see adn remember what the sun lloked like (after a continuously wet year in Wales). At the resort in Sharm el Sheik they always try to make you take some tours - me and Shona (my wife) agreed before going to Egypt that there were no tours this time. BUT, when we met the hotel agent he mentioned that St.Catherine's Monastery,has an icon gallery there. And then I heard they had some wax paintings, even encaustic works - that is why I journeyed out into the desert on this auspicious date.
At St. Catherine's Monastery, in the Church of the Transfiguration, are many many lovely art treasures - really treasures - from the Byzantine period (much 5 - 7th century). I liked it in there a lot, but the guide we had was in a rush - ' .... no time .... no time.... ... must go to be in convoy for desert (lot s of police checks on the way but al is safe enough)! Anyway, we insisted to get 5 minutes in the Icon gallery - Shona and I went in, initially the only 2 people from the trip. I bought the tickets and then went in through the first door on the left.....
There, right in front of my nose and at eye level exactly, was the 6th Century encaustic icon "Christ Pancrator" - my heart was filled up.

Almost too soon, we knew we must go back outside this place - too quickly and not yet ready to leave. When we did go outside another couple heard me talk about it and begged the guide that they could go in there before leaving too. Finally he said ' ...strictly 5 minutes only' or we would miss the security convoy through the Sinai desert - the police would then not allow us to leave for another 2 or 3 hours. So, I took the further opportunity and I also went back in, to look again, to see more, to study the surface of that relic.

When I came out there was a monk there talking and (without a long story) I said that I loved the icon inside and had made a simple copy years before and eventually had it published it in a small book about encaustic. He smiled and put his head to one side - "...you were a carpenter before" he said - "Yes" I replied... "well I have your book (Encaustic Art - How to Paint with Wax) and all the things to begin encaustic from you, but I never started yet."

I was so touched that a circle was completed and that on this special day something very strong was in the prayers of our encaustic hearts - a strong actual feeling of the Universe communicating. It has given me a lot of encouragement with continuation of the encaustic work.
NOTE: The encaustic art range is marketed most strongly into the Hobby Art area. The How to Paint with Wax book that the monk now had is not really any help to him in painting an icon, in fact, on seeing the icon I really wonder if it is painted by use of molten wax or if a cold wax paste was used.
If you want to see some more of these icons in small form
there is an icon gallery on this Egyptian tours site.