Encaustic.com update April 2020
Thank you to everyone who responded to our last email regarding our temporary closure. In the light of those responses and the updated government outlook to the duration of this situation, we have done a U turn and decided that we will stay open for as long as possible, and only close if a new specific government request to do so is issued.


It seems more and more, that online shopping with revised delivery protocols is being still encouraged. This does at least allow all of us to get some supplies for hobbies, art and in fact many leisure pursuits that can be enjoyed at home, during this time of unprecedented personal restriction. And hopefully, our home based lives, with the careful behaviour of delivery drivers, will continue to have the desired effect, and save both suffering and life for many. But also allow some creative expression to be enjoyed during these strange times with long days at home. So please feel free to continue to order if you need anything for your Encaustic Art zone and enjoy some of the amazing magical creative opportunities ...
ONLINE COURSE in Encaustic Art
It's an ideal time to give some focus to developing favourite home based activites and perhaps your wax melting skills. You might like to explore challenges and guidence to solutions that the online courses can provide. They are a great way to learn and give you unlimited access to many videos and study focus articles relating to each of the topics. Take a look at www.encaustichouse.com if you are interested.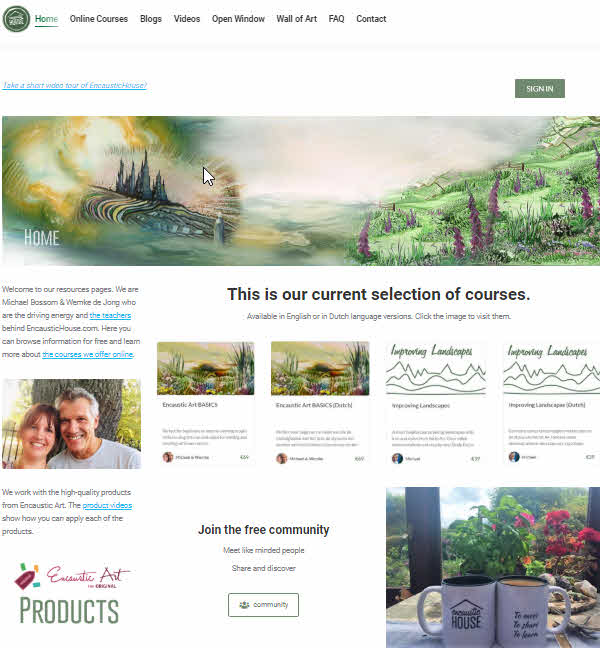 Over on encaustichouse.com you can find our new Open Window. This monthly feature offers a gallery of inspiration to stimulate your imagination and to offer possibilities and insights.

.. it can also be an enjoyable journey. This month it is about figures and as you will see, social isolation wasn't a familiar concept when most of these were created. Walk out in the mind's eye!
Some existing offers
We have some ongoing offers that you might like if you are going to do some Encaustic Art during this period. Or maybe you have friends or family who would like to begin Encaustic Art? What better time to start than this?
Starter Set for Encaustic Art
Encaustic Art Starter Set in Gift Box
£

59.98
Encaustic Art Low Heat Stylus (220/240 volts)
encaustic art Low Heat Stylus
£

34.00

£

14.99
Starter Set Plus
Starter Set Plus - Iron, waxes, card, scriber with the BASICS Book & DVDs
£

91.96

£

84.96
Stampzetz - 21 All at Sea
SZ21 All at Sea - polymer stamp set
£

19.99

£

7.99
99535590 Bulk Wax Box 144 blocks @3 or choose
99535590 Bulk Wax Box 144 blocks @3 or choose
£

144.00
Hot Air Gun
£

98.00

£

84.00
Stampzetz - 22 KREATURZONE
SZ22 Kreaturzone - polymer stamp set
£

19.99

£

7.99
Free ideas, techniques, insights and more, including our latest blog called: Figure it out ...


All intended to help you be creative.
Stay safe in this strange and changing new world. Remember too that we are creative beings by nature. So together we are all helping create the world we want to find, the world we want to live in.


If you need any further information or help please use the links at the bottom to visit our Facebook page or the YouTube channel page. Also our website and email contact address. Our SHOP is at encaustic.com/shop/