Welcome to Encaustic.com updates
Spring is either early or it's a very warm winter. The changes in our world seem to bring surprises every day. Luckily that is a common quality and a familiar feeling if you work with molten wax colours in the creative Encaustic Art way.

People often ask "What's new"?
Well, we do have a 20% discount on all products in our online shop running until Friday 13th March. See below for the coupon code that you need to use in the checkout.


... but the products are pretty much the same as they have been for the last 30 years.
Basically a good temperature controllable iron, a range of lovely wax colours and some cards for working upon. Of course there are Stylus tools with lots of tips, Hotplates of various sizes, Hot Air Guns to move wax without contact, and stamps to bring fast image focus and messaging into cards.

... So the thing that is really new is the moment of creation.
That is really all we have in which to make choices.
And those choices are the very tools determining how we enter the moments ahead.

We simply need to:
Be well,
Dream well,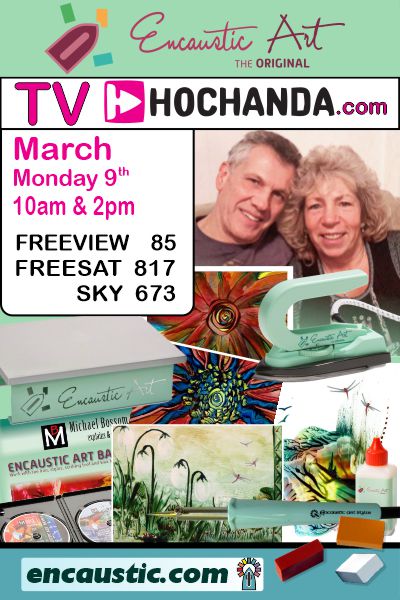 I loved your class.The "Improving the landscape class" was wonderful and so worthwhile investing in. The way the class was presented with both video and pictures explaining the process, was absolutely wonderful and so very easy to understand. There was absolutely no questioning any of the procedures. Michael is an excellent teacher and one that you can benefit greatly from in learning the art of encaustics. As far as the price of the course, it is more than fair. I have payed doubly and have not received near the satisfaction and ease of learning, as with Michael. So worth it and I encourage anyone interested in encaustics to give it a go…….
……..I know I'm shooting myself in the foot, but I think you should charge more for your classes. They are wonderful and so easy to follow…….
JS – USA
Business is a strange thing and prices just get pushed upwards, ever upwards. We've just had to raise a few prices mostly on stylus tips and some other peripherals. All the main items remained reasonably stable, so we have held those prices for now. And to celebrate, after so many years of offering Encaustic Art, we are going to offer you a full 20% discount on everything in our shop. It only lasts for a week, so make sure to order very soon. Final day is Friday 13th March - midnight!
Order stuff in the shop as normal then at the checkout enter the coupon to see the discount applied. Below is the code to enter in the checkout coupon space:
March2020

We continue to add blogs to the collection now building into a great resource of free helpful information and examples for working with Encaustic Art. Click over to EncausticHouse.com/blogs to find them along with video and an inspiring new Open Window gallery by Wemke.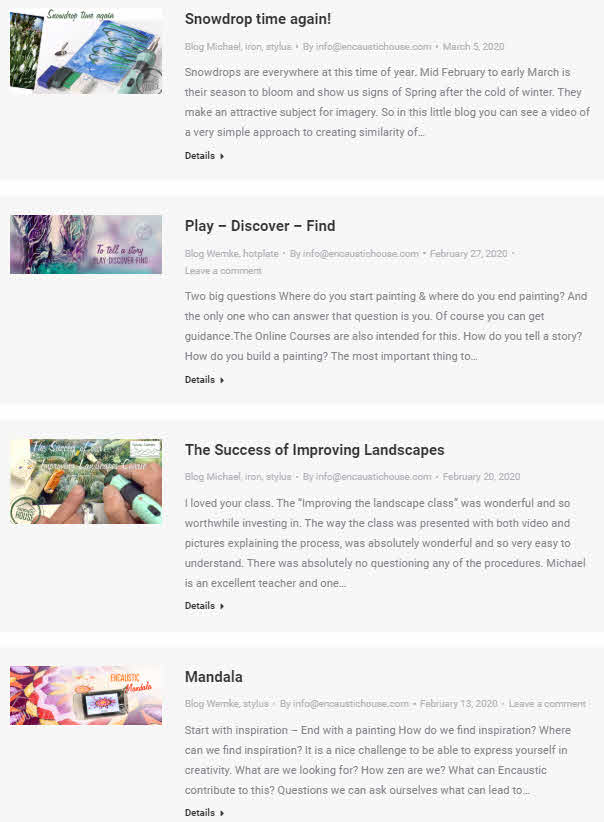 Thanks for subscribing to our updates. We hope they will be encouraging and even bring you some inspiration from time to time. Remember, the 20% off everything in the shop online finishes on Friday 13th!!!


If you need any further information or help please use the links at the bottom to visit our Facebook page or the YouTube channel page. Also our website and email contact address. Our SHOP is at encaustic.com/shop/
Be well, and enjoy these latter days of the winter, before gardens and outdoor things call us into the lengthening evenings!

All the best from us both,