Welcome to Encaustic.com updates
It is the first of August and at long last we have completed creation of our first online course. Many people have said they are interested in doing this, so a community platform has been created to bring a social environment for learning Encaustic Art right onto your screen. Please visit encaustichouse.com and register today for a free place in the community that will become a global home for Encaustic Art learning.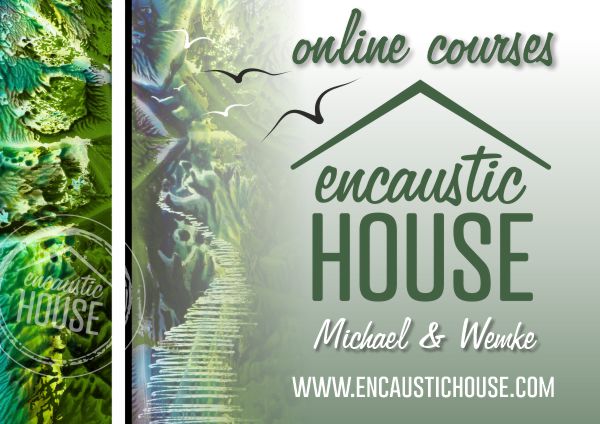 The first course is a suitable starting point for complete beginners, but that doesn't mean it is not comprehensive. The material covered is sufficient to put all the BASICS skills of iron and Stylus into your hands. So if you want to discover more skills and get a deeper understanding please do look through the course content.
* based on the BASICS book and DVD

When you enrol in a course you become part of the course community. You can remain private i your progress or you can join in with others of similar ability and interest - share the journey, grow together and through one another.
This is the content of the first section of 14 included in the course. This first section is completely free and you can access all these videos and get a clear understanding of how it all works. If visit the course

page then you can browse down through the long list of contents, the sections and the segments within each section. Wemke has created some beautiful Inspiration Galleries for every section too. Well worth viewing!
Michael Bossom has been a leading light in Encaustic Art for more than 30 years. He has a wealth of knowledge and his video teaching manner is easy and clear. In this course the Study Focus text and photograph pages are made by Wemke de Jong who picks out the key points every time.
* based on the BASICS book and DVD
EncausticHouse is a shared project, created by Michael and Wemke de Jong.

Wemke is an avid encaustic art teacher with great skills, especially on the hotplate. ... and her skills in styling "The House" have made it a special place.
Encaustichouse.com is a new resource for development of the encaustic arts. Of course the BASICS need to be covered carefully, to create a platform for growth. But there is much more on the waxing horizon. Improving Landscapes and Hotplate Beginnings are already in creation. Why not register for free and take a look at how the house works?Section 1 is totally free & reveals it all!
Thanks for subscribing to our updates. We hope they will be encouraging and even bring you some inspiration from time to time. Some product offers sometimes too!


If you need any further information or help please use the links at the bottom to visit our Facebook page or the YouTube channel page. Also our website and email contact address. Our SHOP is at encaustic.com/shop/