Welcome to Encaustic.com updates
The months fly by and time for working with encaustic art in the house can get overtaken with need to work outside in the garden! But those hours spent with flowers and the natural beauty can be an inspiration too. Art is an expression of your own nature and is affected by everything in our lives!
We will be at the Create It Kent 2019 show at the Kent Event Centre,
Kent Showground, Detling, Maidstone.
Saturday 18th (9.30am-4.30pm) & Sunday 19th (9.30am-4pm) May 2019.
We will have a taster table on the go as well as many of the Encaustic Art products. Maybe see you there? :) :)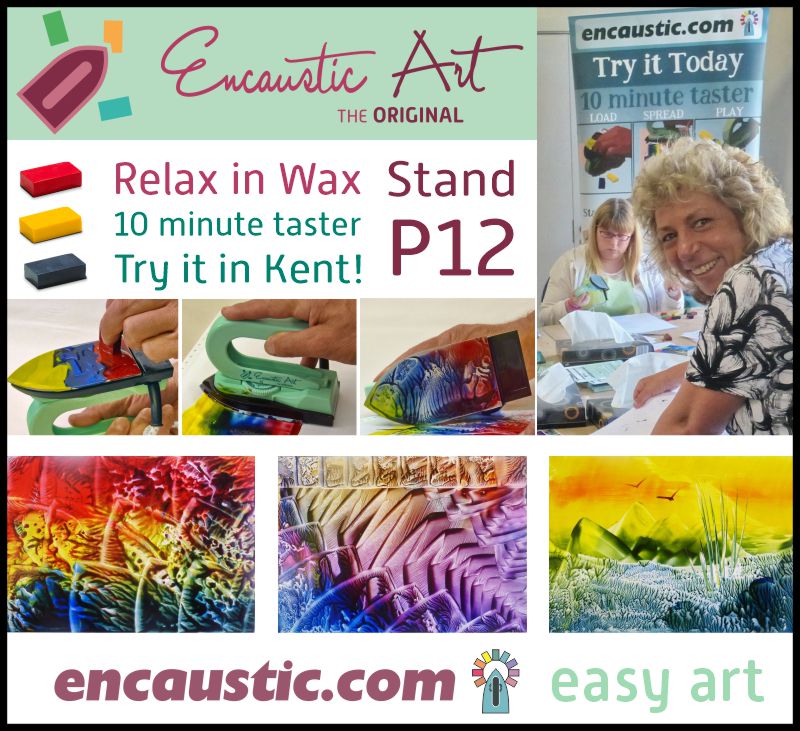 Hochanda skill swap - Encaustic Art and Gel Press
Time for a creative change, so Michael Bossom and Barbara Gray decided to do a skill swap on Hochanda - live action in one another's creative specialities. It turned into a lot of fun, not always plain sailing, but always interesting and fun. Below are the links to the 2 programs. I worked forward and evolved this a bit after …
Combining Gel Press prints with Encaustic enhancement
In the last post I mentioned about printing simple blocks using a Gel Press with thin acrylic paints. This introduction led me onto exploring a little more deeply how prints might be enhanced using the Stylus and encaustic art wax block colours. The printed acrylic paints can be over-printed many times, but their colour value is never as strong and …
Encaustic Art Rubber Comb 2 - NEW Model!
Encaustic Art 4 Sponge Set
99600000 Encaustic Art 4 Sponge Set
£

5.98
Starter Studio for Encaustic Art - Good Deal!
Starter Studio - Iron, waxes, card, scriber with a Stylus Pro tool, the BASICS Book & DVDs
£

126.94

£

116.90
Thanks for subscribing to our updates. We hope they encourage you and bring you some inspiration. Some product offers sometimes too!


If you need any further information or help please use the links at the bottom to visit our Facebook page or the YouTube channel page. Also our website and email contact address. Our SHOP is at encaustic.com/shop/