Welcome to Encaustic.com updates
Encaustic Art was back at the CHSI craft and stitches trade show last month. We met many lovely people and enjoyed the opportunity to showcase the new packaging and all those new products! Some visitors even remembered when we first began 30 years ago!
20% discount on all our boxed Wax Sets this week
Our most popular products are the wax blocks. So this month we are offering you a fantastic 20% off any of the 16 block boxed sets. All you have to do is order them online and in the checkout put the coupon code wax20 into the coupon box which is at the bottom of the "view cart" page and also at the top of the "Checkout page". The offer will run from now until midnight on Sunday 17th March. Or you can phone us 01239 831401
* Click any of the sets below for their shop page - use the coupon in checkout.
It's always a big discussion - what is art? Is any painting art? Is any creation art? Is there a way to clearly identify art and separate it from not-art? It's an old question with ever changing answers, none of which really want to be put under a scientists inspection. Here are a few definitions that have been tried. In …
Ask a product question?
You may want more information regarding a particular product, a tool or a wax colour, some card or other query. We now have a couple of new TABS below every product. One lists any Frequently Asked Questions (FAQ) and the other offers you the very simple possibility to ASK A QUESTION. It is pretty easy, so why not try? Just find the product you want to know more about and ask away ....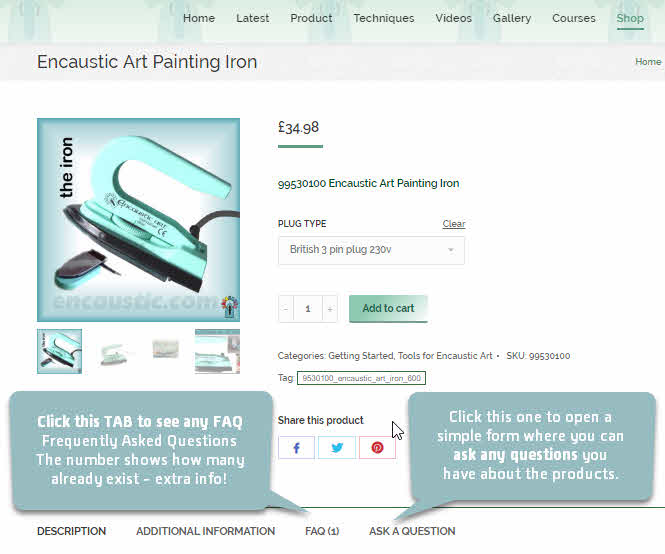 As you see above, just click the TABS on the product pages to see any information in the FAQ section. There is a small bracketed number when an FAQ already exists.

Alternatively, you may have a question about a product that is not yet answered. Just click on the ASK A QUESTION TAB and up will pop an easy to complete screen, similar to this one below.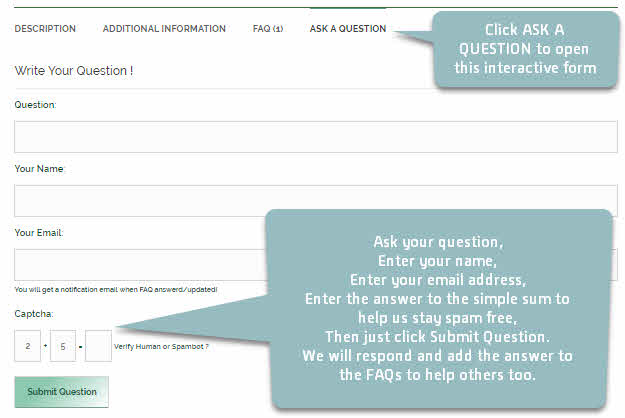 A balance of marks is a short video. just over a minute long. It shows the creation of a simple exercise that you can do using any hotplate. Sponges and a rubber comb were to hand, but you can use whatever you have already.
We are Michael & Shona Bossom. I began my encaustic journey in 1986, inspired by a painting that Shona bought for us. And since that time, Encaustic Art has become a worldwide brand in what is still a very niche market.


... but the encaustic genre is gaining popularity as a medium globally. How far it gets remains to be seen, but we are glad that you have shared some part of this journey and wish you well in your own evolution and development.
If you need any further information or help please use the links below.


Have a great March and all the best with your wax melting creations!