Welcome to Encaustic.com updates
Merry Christmas to you. This is the last email from us in 2018 but we hope that in 2019 we will get inspired and creative every month, with things to share and encourage your encaustic art evolution.

This year has been a big step for us as we moved into the re-branded Encaustic art packaging. The quality of all the tools and products is very good and the new look has been well received; we are pleased.
Christmas Cards 2018 - Stags in the snow - video tutorial & greetings!
Christmas time again and what better way to find the mood than to create cards for family and friends. This year we used the Encaustic Art polymer stamp holiday season set to make reindeer stags in the snow. Below are the results of that work and a basic idea about how to use polymer or rubber stamps with the …
Here a 3 alternative ideas. The bushes and trees are made with the reindeer antlers and the reindeer itself was masked off - a card put in the way, so the body of the reindeer printed onto that card and the antlers onto the painting card as wished wanted.
Our Christmas cards above were created using two polymer clear stamps from the new stamp range introduced this year. There are all sorts of combinations that can be used creatively in your designs with molten wax, or just as stamps if you prefer. Take a look at the clear stamp range to see what possibilities they offer.
The new book and DVD published this year introduces Encaustic Art BASICS as a set of complementary learning aids. The twin DVD disks have all the live action, almost 4 hours of it! Then the 80 page A4 format book has all of those and more in very illustrated step by step project pages. Get the BASICS.
The Product Video page hosts short films which introduce and explain the various products in the Encaustic Art range.


There are also a growing collection of Learning videos intermixed with these. Lots of helpful insight when you are working toward building skills or looking into the possibilities of what various qualities the products can offer to your creations.
JANUARY 7th TV HOCHANDA
Yes, another 2 hours of hot wax fun!
A local course in Pembrokeshire for beginners - just a day of fun together.
A few recent creations using Encaustic Art Wax colours
Over the last weeks I've been enjoying creating images in the encaustic art wax colours. Even after 32 years of playing and working with this fascinating medium I still find pleasure and happiness as well as challenge and evolution.


Craft is the skill involved in working with materials. The art comes as each of us discovers and expresses individuality within those skills.


One of the things that continues to stretch me in the genre of encaustic work is the way in which this alchemic material, the molten wax, often reveals things that were unexpected. These offer the opportunity of reaction and development of images which can then take on an other-worldly impression.


I hope you enjoy them too.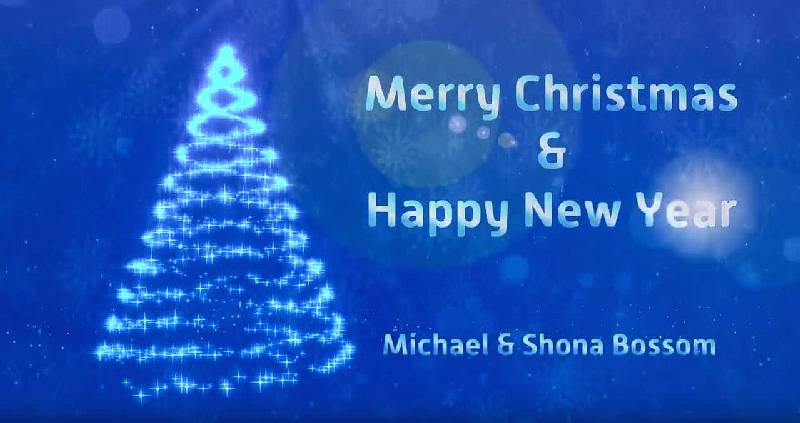 Nadolig Llawen a Blwyddyn Newydd Dda
Thanks for subscribing to our updates. We hope they will be encouraging and even bring you some inspiration from time to time. Some product offers sometimes too!


If you need any further information or help please use the links at the bottom to visit our Facebook page or the YouTube channel page.

Also

our website

and email contact address.
Have a lovely break over the end of this year and may next year bring us all a rich experience of life and creativity.
All the best,
Michael & Shona Bossom